2023 Professional Psychology Newsletter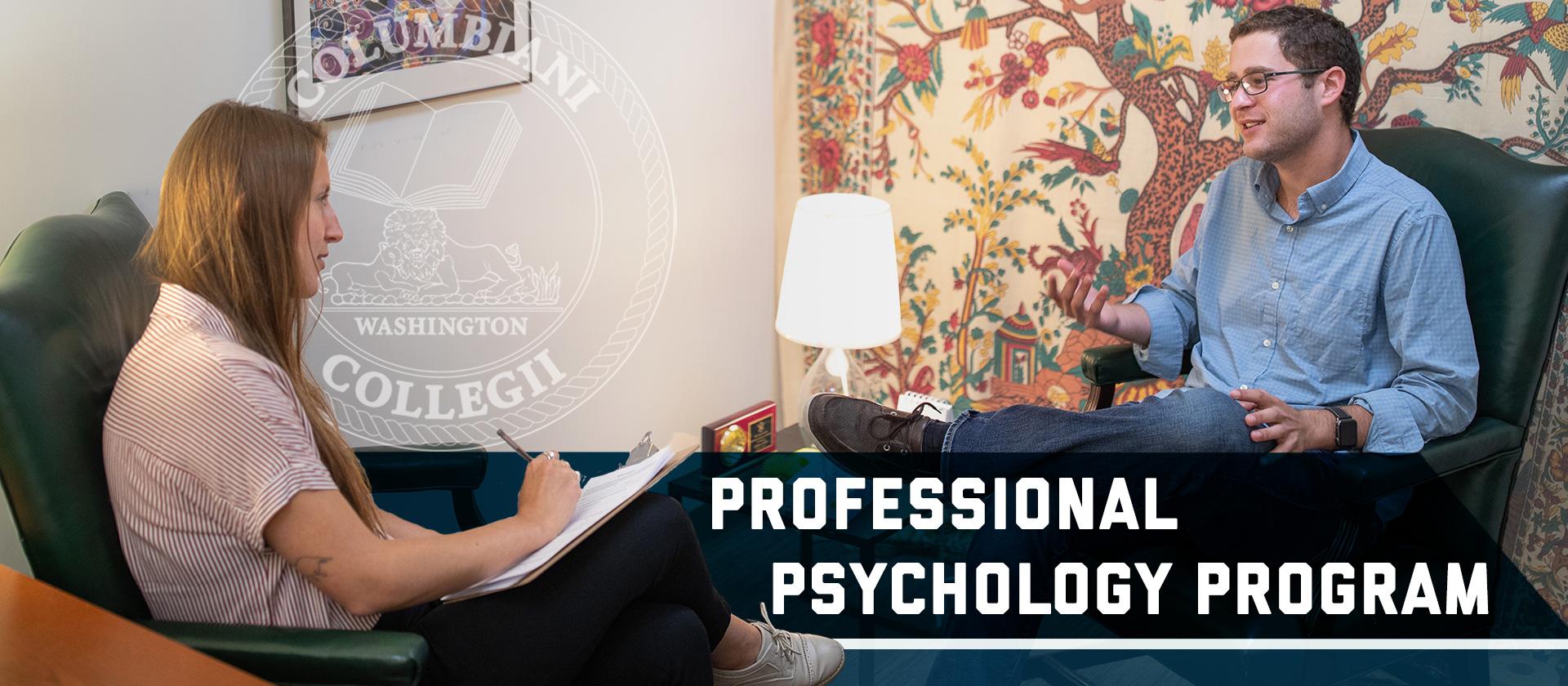 Message from the Program Director
Program Spotlights
Program Kudos
Alumni Class Notes 
---
Message from the Program Director
Dear GW Professional Psychology Program Alumni and Friends,
I am pleased to report that the Professional Psychology Program and our associated Center Clinic are doing well during a time of significant need for psychological training and services. Our students and faculty continue to present their scholarly work at domestic and international conferences. Our faculty remains strong: this year we welcomed Dr. Joshua DeSilva as our newest core faculty member and Dr. Alex Smith joined us as a visiting faculty member while Dr. Lara Sheehi is on scholarly leave at the Doha Institute in Qatar.
This past year the Center Clinic provided over 7,000 hours of clinical services to patients. Dr. Mollie Dee was promoted from staff psychologist to clinic director and Dr. Giovanni Scott is our new staff psychologist.
Looking ahead, after 28 years with the Professional Psychology Program I will be retiring at the end of June 2024. A nationwide search for our next program director is currently underway and interest in the position from accomplished candidates suggests that our next director will build on current strengths to lead our program to continued influence and success.
I very much appreciate your continuing interest in our program and your gifts of time and financial support. Please stay in touch and I look forward to joining with you as a program supporter in continued engagement with the GW professional psychology community in 2024 and beyond.
Sincerely,
Loring Ingraham
Program Director
---
Program Spotlights
Meet Our Newest Faculty Member, Dr. DeSilva
We are pleased to welcome Joshua DeSilva, PsyD, (they/them) to the Professional Psychology Program as an assistant professor of clinical psychology. Since completing their Psy. at GW in 2016, Dr. DeSilva has focused much of their scholarship and professional development on group work and the integration of multiculturalism with clinical practice.
They were previously the director of clinical training and an assistant professor at the Chicago School of Professional Psychology, D.C. Campus. Dr. DeSilva has a passion for race, gender and sexuality studies and therapist use of self. Their recent group work has included leading the first all-BIPOC large group consulting team at the American Group Psychotherapy Association's national conference for over 100 attendees, as well as directing a group relations conference sponsored by the A. K. Rice Institute for the Study of Social Systems that focused on Latine leadership and authority dynamics.
Locally, Dr. DeSilva is president-elect of the Mid-Atlantic Group Psychotherapy Society. In addition to teaching and running a part-time private practice, Dr. DeSilva serves as vice chair of the Virginia Latino Advisory Board. In this role, they advise the governor and General Assembly on Latinx affairs statewide. Dr. DeSilva has a passion for community psychology and connecting graduate students with community service and advocacy roles that authentically connect with their interests.
---
Meet Our New Clinic Director, Dr. Dee
The Professional Psychology Program is also pleased to welcome Mollie Dee, PsyD, as the new clinic director. Dr. Dee is a clinical psychologist who provides both therapy and assessment services to children, adolescents and adults. She received her bachelors', master's and doctoral degrees in psychology from The George Washington University.
In the course of her training, Dr. Dee acquired a range of experiences in both therapy and assessment. This has included work within private practice, school, in-patient and community mental health settings. She completed her pre-doctoral internship at The Women's Center in Vienna, Va., and gained post-doctoral experience as a school psychologist at a D.C. charter high school.
Prior to pursuing her doctoral degree, Dr. Dee spent many years working with children and adolescents diagnosed with developmental delays and experiencing social-emotional challenges. Most recently, Dr. Dee has focused on building her private practice and the shift to seeing therapy clients via telehealth.
She welcomes opportunities to expand the "tools" in her clinical toolbox and appreciates working with a diverse range of clients and a variety of presenting needs. Dr. Dee is grateful to have the opportunity to team with the wonderful students and staff in the GW PsyD program and is committed to supporting the Center Clinic's continued growth. In 2023, Dr. Dee was named director of The Center Clinic.
Katherine Marshall Woods, the director of clinical training, commented:
"We are very fortunate to have Dr. Sarah Hedlund along with Dr. Dee, Dr. Giovanni Scott and Dr. Joshua DeSilva within the clinic as well as our three returning post-doctoral residents, Drs. Mehravar Javid, Joseph Kosowsky and Ximena Radjenovic. 
"Last academic year, we reopened the clinic to provide the option to offer in-person therapy services while continuing to offer virtual services to those who prefer this modality. Similarly to years past, we entered a waitlist for the clinic that we have lifted at the onset of this training year.  
"We are pleased that the entire class of 2024 have headed off to compelling internship sites to continue their training. The students are attending numerous sites that the program is familiar with and have had students train within the past and a few new sites that we look forward to working with this year. 
"This academic year, the clinic begins engaging the significant demand for mental health services. We look forward to continuing to provide robust services to the DMV community!"
---
Program Kudos
Kudos to Senior Academic Department Administrator Natalia Mikheeva for working with program students this year to create a welcoming and relaxing space for students in our new lounge (our former computer lab). We invite you to stop by and enjoy it in person next time you are in our neighborhood.
---
Alumni Class Notes
Daniella G. Scott, PsyD '04, has been busy with her private practice in Washington D.C. where she continues to engage in clinical work and joined the Professional Psychology Program as an adjunct professor and staff psychologist in August 2023.
Dr. Karla E. Steingraber, PsyD '05, has been involved in a variety of pursuits, including clinical and sport/performance practice with Everest String Coaching, serving on the Illinois Board of Psychology and serving as president of the Generation Next Project foundation. She has also written a new book, What's Your Everest?, which explores the science and psychology behind achieving success in sports, career and life.
Dr. Katherine Marshall Woods, PsyD '04, is the director of clinical training at the George Washington University Professional Psychology Program where she performs research with students in the Psychodynamic Film and Media Set.