2018 Department Newsletter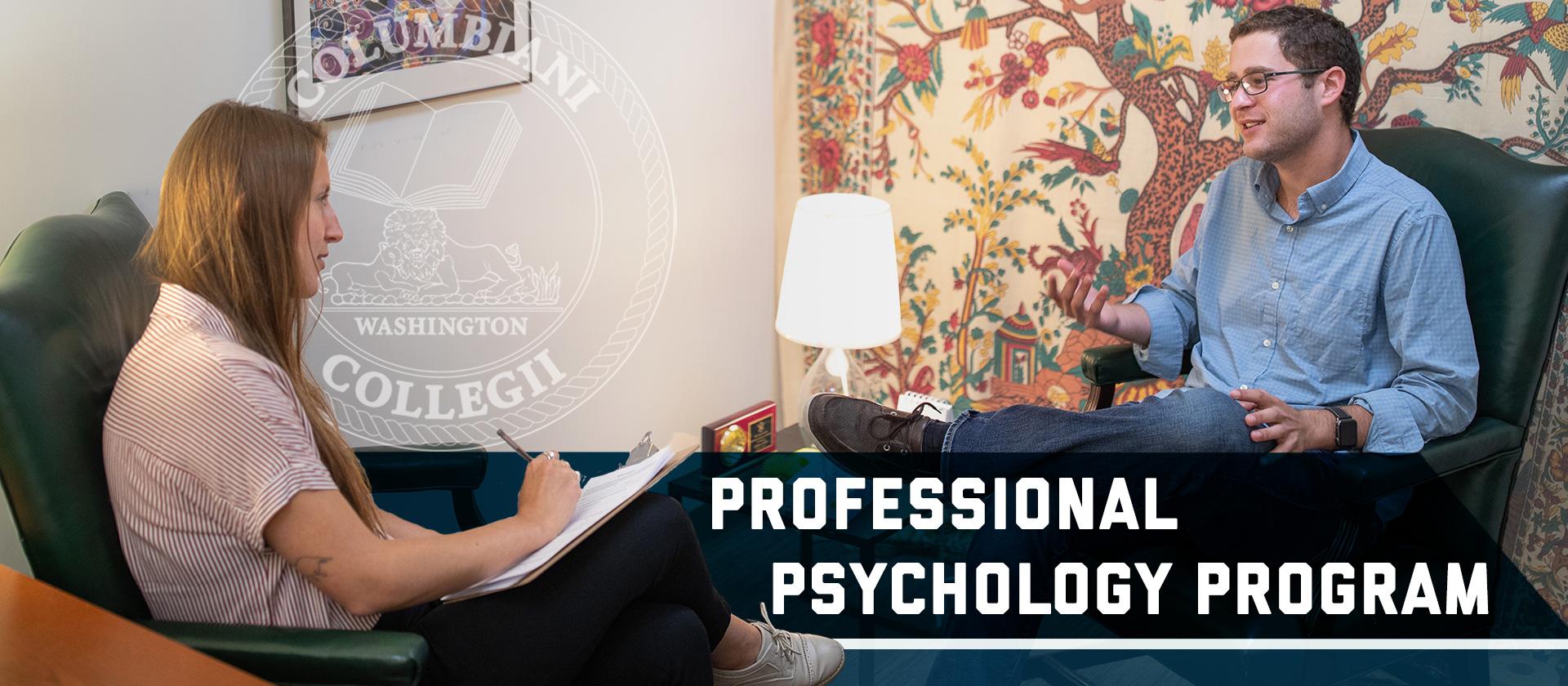 Message from the Chair
Department Spotlights
Department Announcements
Alumni Updates/Class Notes
Donor Recognition
Support the Department
Stay Connected
---
Message from the Chair
Loring J. Ingraham, PhD, Director, Professional Psychology Program, Professor of Clinical Psychology
Dear Alumni and Friends of the Professional Psychology Program,
I am glad to report that Professional Psychology Program has had a productive year and continues its tradition of excellence in scholarship, teaching and clinical service to the community.
This year students and faculty continued to present their work locally and at national and international conferences and through published articles, chapters and books. We added innovative teaching tools that enhanced supervisors' ability for direct observation of students' clinical work. Our clinic was busier than ever, providing thousands of hours of affordable psychological assessment and intervention.
In December 2017 we moved our program and clinic to spectacular space on the 2nd floor of 2100 Pennsylvania Avenue while our permanent home in Old Main undergoes renovation. We look forward to returning to upgraded facilities in the coming year, but in the meantime invite you to visit us in our brightly windowed and spacious temporary home.
With warm regards and deep appreciation of your support for our students and program,
Loring Ingraham
---
Department Spotlights 
Hands-on Clinical Training Turns Students into Professional Psychologists
From left, post-doc Dr. Slaght, doctoral student Jesse Greenblatt, post-doc Dr. Reid in the program clinic
This article originally appeared in the CCAS Spotlight newsmagazine.
For an hour prior to seeing her first client at the GW Professional Psychology Program's Center Clinic, second-year graduate student Jesse Greenblatt was more anxious than her new patient. She nervously rearranged chairs, adjusted the lamp light and practiced her body language cues from folding her hands in her lap to nodding empathetically—all while frantically remembering the lessons from her clinical skills classes. Could she emulate the practiced manner of the program's more experienced students? Would the client accept her as a qualified mental health professional?
"We have a saying in the program about your first session: Just stay in the room," said Greenblatt, who is pursuing a doctor of philosophy degree in clinical psychology. "If you can put aside your nerves and just hang in there, pretty soon you realize you're just a concerned fellow human being having a conversation."
The Columbian College's Professional Psychology Program graduates practitioner-scholars ready for careers as clinical psychologists. The program's 100 students combine in-depth psychodynamic training with classes on the scientific foundations of psychology. Courses are taught by licensed clinicians and faculty members skilled in using a psychodynamic framework for the assessment and treatment of psychopathology. The Center Clinic—a nonprofit outpatient community mental health and training clinic housed at GW—provides students with the opportunity to work directly with patients, many of whom are local D.C.-area residents who might not have access to needed care.
"For students seeking careers as psychologists, our program provides a full-time immersion experience," said Paul Gedo, director of clinical training and associate professor of clinical psychology. "We are providing real services, especially to folks who don't have a lot of money or are historically underserved, and we are offering students a broad variety of diverse experience early in their training. It's a win-win."
Between the clinic and their classroom training, students "hit the ground running," said third-year student Celeste Kelly. They also hone their diagnostic and treatment skills through mental health assistance to affiliate organizations like charter schools, elder care and homeless shelters. They perform third-year externships at facilities that include college counseling centers and hospital psychiatric units; and they conclude their studies with year-long full-time internships, providing mental health services at clinics, schools and hospitals around the country.
The emphasis on real-life clinical experience was the reason Greenblatt, who received her BA in English from Wesleyan University, chose Columbian College's program. During her first year at the clinic, she primarily monitored the clinic phones, often serving as the important first point of contact for potential clients. Now in her second year, she is seeing as many as five clients a day in between classes, all with a post-doctoral fellow on site and supervised by a licensed faculty member.
Students routinely treat clients with issues like depression and mood disorders, but conditions such as severe eating disorders, substance abuse and acute suicidal inclinations are referred to other facilities. The clinic regularly liaisons with the GW Hospital, the School of Medicine and Health Sciences and the School of Nursing. "We tell students that even though they are beginners, there are a lot of resources for them and our clients," said Loring J. Ingraham, program director and professor of clinical psychology. "In some ways, their patient receives some of the most dedicated treatment they will ever get."
Building Confidence
Once the clinic doors open, students often find that sitting across from a real-life client can feel like a different world than their practice sessions. Developing confidence and finding their professional voice are sometimes the biggest hurdles for students. "Nothing prepares you for seeing patients—it's incredibly intimidating and you never feel like you're ready," said second-year student W. Max Hurley-Welljams-Dorof, who hopes to use his degree to treat severe psychopathology conditions like schizophrenia. Like many student-clinicians, he is still learning not to internalize his patient sessions and carry those strong feelings into his home-life. "There's an extreme level of intimacy that develops with a patient. They tell you things they haven't told their family or loved ones," he said. "You need to find a way to turn those emotions off or you won't be an effective therapist."
In fact, students often undergo independent sessions with a therapist to help them sort through their emotions and to give them a window into the counseling process. "If you are learning how to be a therapist, it's important to know what it feels like to be a patient," Kelly said. "You want to see the process from both sides of the room." Through her externship at Catholic University's student services center, Kelly has refined her area of interest to college counseling. "I love the idea of helping them navigate their intersecting identities as they start to view themselves as adults and as individuals," she said.
And Greenblatt has found a niche working with young people at a D.C. middle school. "This program has helped me learn not only what I want to do but also who I want to be," she said. "I feel like I'm getting to know this field while getting to know myself."
Dr. Richard Ruth and doctoral student Erik Santacruz worked together to edit the new book LGBT Psychology and Mental Health: Emerging Research and Advances (Praeger). Their cutting-edge guide spotlights concise, substantive reviews of the most exciting emerging discoveries, trends and research areas in LGBT psychology, both in science and key areas of clinical practice. Their book is designed to aid professionals at institutions with mental health programs that deal with lesbian, gay, bisexual and transgender issues. It provides information and insight to help psychologists, mental health clinicians and counselors better serve the LGBT populations that, increasingly, are seeking their services.
Dr. Ruth's work on LGBT psychology has been well received. Together with his role as a faculty member in GW's LGBT Health Policy and Practice certificate program, he has won recognition for advancing this area of psychological research, theory and practice, especially with racial and ethnic minority persons.
Bringing Attachment to Group Psychotherapy
Dr. Cheri Marmarosh, associate professor of clinical psychology, guest edited a special edition of the International Journal of Group Psychotherapy, focusing on attachment and group psychotherapy. Taylor and Frances published this special edition as a stand-alone book volume. 
"Attachment in group psychotherapy: Bridging Theories, Clinical Practice, and Techniques," International Journal of Group Psychotherapy (2017) volume 67, pages 157-160
---
Department Announcements 
FACULTY KUDOS
Dr. Paul Gedo and Dr. Stacey Dershewitz created a new seminar for our first-year graduate students. They use video recordings of an on-going psychotherapy case (with the patient's informed consent) to highlight issues of diagnosis, treatment planning, therapeutic listening, technique, non-verbal aspects of therapy and the feelings that the therapeutic process evoked in the patient and the therapist. The seminar facilitated students' application of ideas they were learning in class to a clinical case.
Dr. James Sexton helped develop and validate a new personality measure:  The DSM-5 Levels of Personality Functioning Questionnaire.  (DLOPFQ). Personality Disorders: Theory, Research, and Treatment (2017) doi: 10.1037/per0000264
Dr. Sarah Hedlund has helped revise the Group Therapy Training program at the Center Clinic to improve the group therapy training for students and to expand treatment options for the underserved clinic patients.
CURRENT STUDENTS
Celeste Kelly was the recipient of this year's James Hansell Award for contributions to the betterment of the program through her support of fellow students, commitment to scholarship and dedication to fostering an environment that is supportive and open to diversity.
---
Alumni Updates/Class Notes 
Julie Bindeman, PsyD '04, is the co-director of Integrative Therapy of Greater Washington, which just moved office spaces. The practice supports people of all ages and stages as they grow and change to be the people they want to be.
Kiera Boyle-Toledo, PsyD '13, is currently a licensed psychologist working with children and families at Bradley Hospital in Rhode Island. She will move to Ecuador with her husband to teach and supervise psychology students at the Universidad San Francisco de Quito in 2019.
Rebecca (Stein) Branda, PsyD '18, is currently a postdoctoral fellow at the Family Institute at Northwestern University. She treats adults in individual and couples therapy at the institute. She also teaches and engages in research at the university.
Joshua DeSilva, PsyD '16, is a licensed clinical psychologist and coordinator of group therapy and psychological assessment at Old Dominion University. He is enjoying being a part of a training program.
Dana Grasso, PsyD '06, and the WPA team are happy to report ongoing collaboration with GW students across campuses, disciplines and degree programs to use psychological tests and measures to support rewarding learning and life experiences.
Kimberly Holton, PsyD '14, is currently serving as an active duty U.S. Navy lieutenant aboard the aircraft carrier USS George H. W. Bush as the ship's psychologist.
Leslie Klein, PsyD '15, is working at a group practice in Georgetown doing therapy and assessments, as well as working at the Lodge School, a therapeutic milieu school for students with severe emotional disabilities. In addition, she continues to supervise GW PsyD students.
Jaclyn Lopez Witmer, PsyD '16, is a clinical psychologist in private practice in New York at Therapy Group of Manhattan. Her office is located in the Financial District.
Gregory Pearson, PsyD '11, is a psychologist at House of Ruth's Domestic Violence Support Center in Washington, D.C. He also leads a process group at N Street Village, and is on a subcommittee advising the D.C. Board of Psychology on regulations for psychologists.
Adam Pletter, PsyD '01, works at a full time child & family private practice in Bethesda, Md. He also founded and runs iParent 101, LLC, where he writes and speaks nationally about parenting in the digital age.
Diane Reis, PsyD '07, is in private practice in Washington, D.C., working with adults in individual and couple's therapy. She has offices at Van Ness and Capitol Hill and also supervises and teaches graduate psychology students at GW and Catholic University.
Samuel Salamon, PsyD '18, completed a reworked version of his major area paper, "Insight and Responsibility: A Psychodynamic-Existential Approach to Psychotherapy." It has been accepted for publication by The Humanistic Psychologist (APA Division 32's journal).
Lara Sheehi, PsyD '10, is the secretary-elect of the American Psychological Association's Div. 39 (Psychoanalysis). She is co-author of the forthcoming book, Psychoanalysis Under Occupation: Theories and Practice of Psychoanalysis in Palestine (Routledge).
Angela Termini, PsyD '18, after graduating, relocated to the beach to be near her family, and help care for her mom who was diagnosed with Post Cortical Atrophy in 2016 #raiseawarenessPCA. She is preparing for the EPPP, and is planning her wedding to Bill!
Rekha Varghese, PsyD '17,  is a staff psychologist at The Catholic University of America.
Alex Yufik, PsyD '02, is board certified in forensic psychology. He conducts forensic evaluations for state, local and federal government. He lives and works in Los Angeles, Calif.
---
Donor Recognition
THANK YOU FOR YOUR SUPPORT!
The Professional Psychology Program would like to gratefully acknowledge the following generous donors who made a gift to the department from July 1, 2017 – June 30, 2018.
Sheila Donaldson Duston, PsyD, PsyD '07
Mary A. Ellis, PsyD, PsyD '09
The Hansell Family*
Kimberly D. Holton, PsyD, PsyD '15
Dr. Loring J. Ingraham+   
Benjamin Z. Landman, PsyD, PsyD '02
Fred Pisoni, PsyD, MA '00, PsyD '07
Ilyse A. Zable, PsyD, MA '10, PsyD '13 
---
Support the Department
Gifts to the Professional Psychology Program allows us to provide support for faculty and student research and travel, graduate student fellowships, and academic enrichment activities including guest speakers, visiting faculty, and symposia. Each gift, no matter how large or small, makes a positive impact on our educational mission and furthers our standing as one of the nation's preeminent liberal arts colleges at one of the world's preeminent universities.
You can make your gift to the department in a number of ways:
By mailing your check, made out to The George Washington University and with the name of the department in the memo line, to:
The George Washington University
2033 K Street NW, Suite 300
Washington, DC  20052
By phone by calling the GW Annual Fund at 1-800-789-2611.
---
Stay Connected
Join one of GW's industry networks. Connect with fellow alumni professionals in person and virtually and expand your network. Learn more and join.
Connect with fellow alumni and enjoy books on professional development topics including management, leadership, organizational change, and more. Sign up.